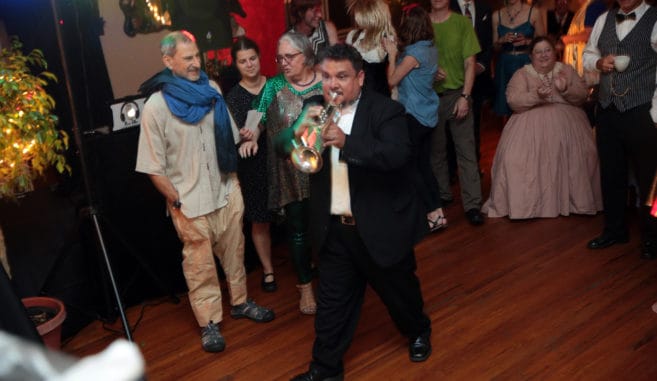 Goldie and Nate's Costume Wedding-Celine and Company-Asheville NC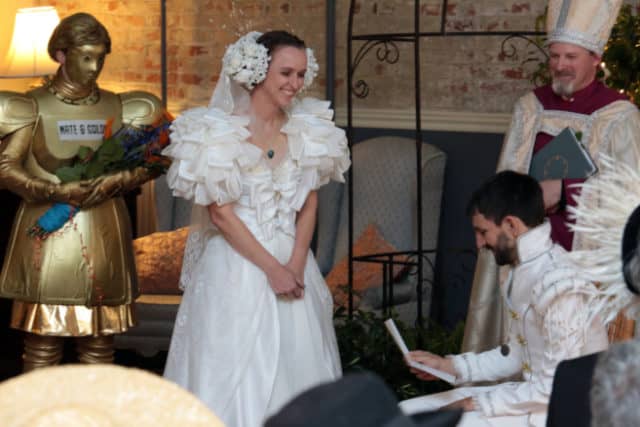 Yes they said YES and YES to a Spaceball Wedding! It was such a treat to see these two tie the knot. In all crazy and fun attitudes, they really made this moment special. At first you would think that you really walked in to the movie. As a DJ in Asheville get to see some pretty cool stuff and this was one of them. All the pictures from Ryan Bumgarner  and some quick video that I captured really captures the whole feel of the night. Here is a quick snippet of the ceremony.
Goldie and Nate's Costume Wedding-Celine and Company-Asheville NC
Celine and Company-What a venue!…What great food!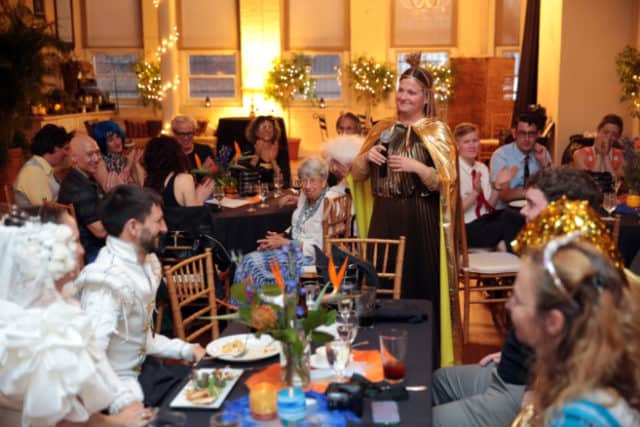 Ms Kim Lloyd paid no expense to have made our mutual client and as well the staff work with ease and finesse. This is a great venue in the center of Downtown Asheville with all of AVL district at a few walking steps. As you can see if the next few pictures its a great cozy and and warm. Its located "On Broadway" in the Historic Broadway Arts Building in the heart of Asheville. The vintage urban venue is ideal for corporate dinners, fund-raisers, anniversary and birthday celebrations, rehearsal dinners, wedding receptions. Take a Look!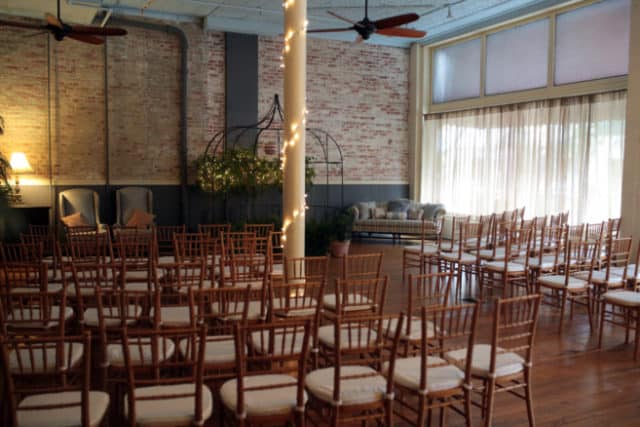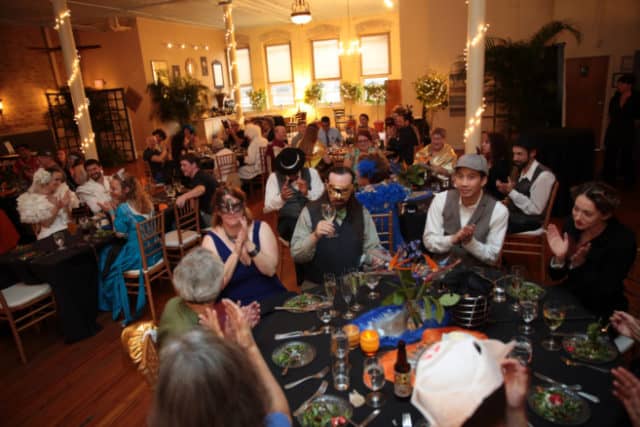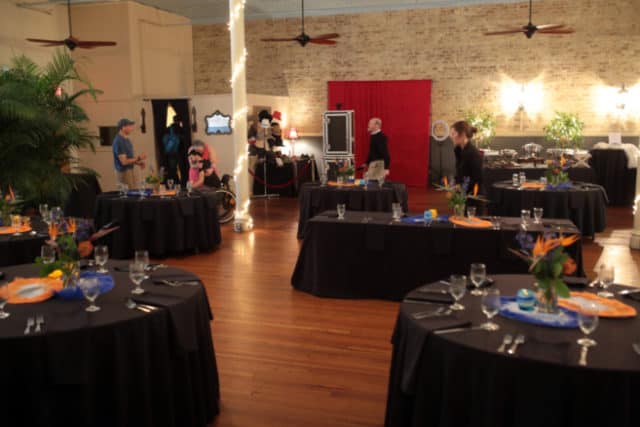 The Food
Goldie and Nate allowed me to part take in the food that their guests enjoyed. All I can say was amazing! I have heard through the talk of the town that Kim Lloyd and the staff have a just incredible food at their venue. They were not lying WOW! On occasion my clients as part of their wedding questionnaire, will indicate if this is permissible. I enjoyed their party to the fullest.
What a Great Party!
I really thought that the fun was just starting from the wild and fun ceremony that Goldie and Nate had. Little did I know that the whole family was all about having fun. From the start it was just so much fun. As far as the music was concerned they had a pretty extensive playlist. They loved good old classic standards to get the party at a momentum. The cool part is mixing and keeping the beat active. At one point in the night they had some family memebers that play musical instruments play a couple of songs.
As standard form of practice, I bring my trumpet to all the DJ parties I do. Little did i know that I was asked to join in and Jam with the family. In in the instant of the moment, the family decided to bless the new couple with a hora ( a jewish tradition)
The Horah is an Israeli circle dance typically danced to the music of Hava Nagila. It is traditionally danced at Jewish weddings and other joyous occasions in the Jewish community.[6] The hora was introduced in Israel by the Romanian Jewish dancer Baruch Agadati. In 1924, he worked together with a composer and songwriter to choreograph a show performed by the Ohel Theater Company, which toured the pioneer settlements of the Jezreel Valley. "Horah Agadati," as the dance was known, became an instant success.[7]
Here some more pictures..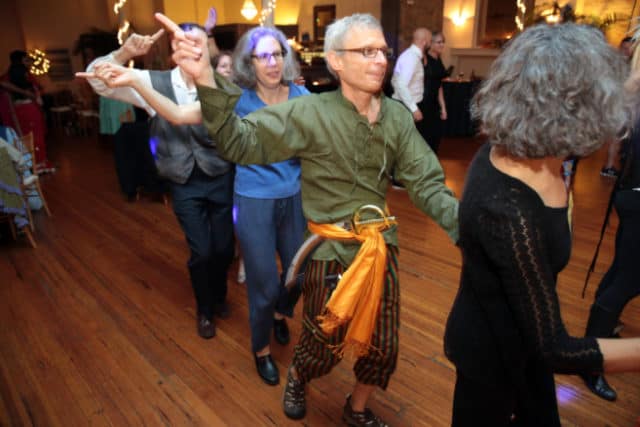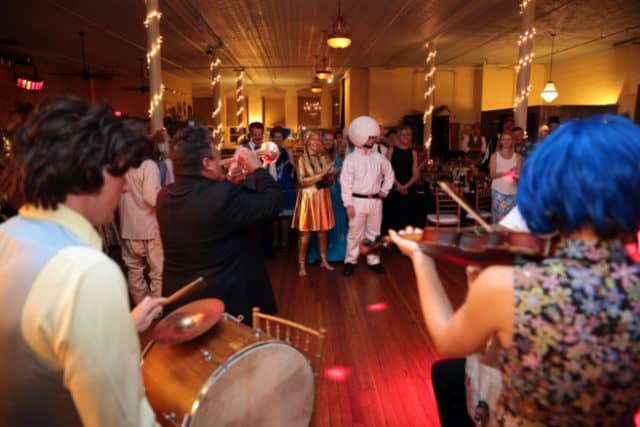 Nothing like being prepared for a successful party.
I encourage all my brides to get as much info before the big day! Available to all my brides online. You can as well fill out the information via PDF and do it by hand. Its a nice and great moment to enjoy filling this info out together. Especially over a nice bottle of wine with some music in the background. It really sets the mood for filling out this info. In my experience in talking to my clients this time for all couples can be very frustrating and nerve racking. Not the case with these helpful links.
Always make the choice to work with as much info that you have. I would encourage you to really do some research as some other Djs and companies have very strict policies when it comes to music. I on the other hand want you to have as much input as possible. Goldie was very clear in the theme that she wanted. As well, she had some requests that are not typical. That in turn makes it much more special when celebrating such a joyous occasion. If you look at the past reviews and from the blog from clients you see that I am all about them. My 50 plus reviews at 5 stars gives you a indication of what I am about.
Want more Information?
If you need more information on past clients and past experience, just send me a email and I can provide that for you. Its all about having information available at your fingertips…Thats the great thing about having the website. The best way to reach me is via the contact form. Just provide your basic info and I usually respond within one hour. 
Another Happy Bride and Groom!
Such a great thrill to see my clients day come to life and meet all exceptions and dreams as it was for Goldie and Nate. Thank you so much guys..You were a joy to perform for as well to perform live music with your family…You just have to love music!
 Another 5 star review from Goldie and Nate
Patrick was incredibly easy to work with! DJ -PLO provided me with a very thorough questionnaire that helped guide me through the many choices I had to make. I was even able to include some songs that we only had available via MP3 file . The trumpet playing was such a fantastic addition! It added a really personal touch to the music, and we had a lot of compliments from the guests! I would highly recommend DJ P-Lo to anyone looking for a friendly, easy-to-work with DJ!
Vendor Credits
Venue: Celine and Company
Catering: Celine and Company
Photographer:Ryan Bumgarner Photography