Wedding Party DJ Asheville-Miami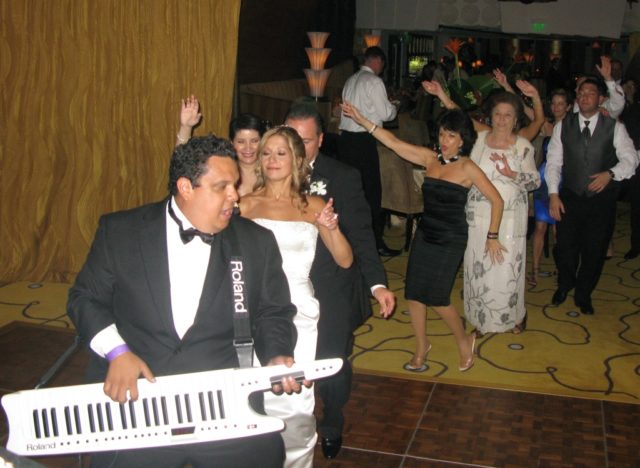 Hi there! My name is Patrick Lopez aka DJ-P-LO
Hi…DJ P-LO here. I take great honor and being one of the few musicians that is also a DJ. Having over 25 years experience in the music business, I understand how music is key! It's what makes the party!I offer the ability to play sing,play piano and trumpet for your cocktail and or reception. I really believe it adds a touch of elegance and class that no other DJ can do! When it comes to performing your event, my 15,000 and growing music library can accommodate every musical taste. Now having technologies where any song can be downloaded, all music is available at your request.Please feel free to look at my website for more information or scroll down for the websites resources. Thank you for visiting!
I am available as a Wedding and Party DJ in Asheville, Brevard, Hendersonville, Waynesville, Cullowhee, Franklin, Andrews, Highlands, Sylva, Canton, Black Mountain, Lake Lure, Weaverville, Marshall, Morganton, Hickory, Charlotte, and Spruce Pine.  Also available for weddings and parties across North Carolina, South Carolina including Greensville, Spatanburg and Eastern Tennessee and South Florida.
Here is a list of resources on my Website and FAQ:
1)The Ultimate Live Band and DJ Experience..Xpresso Party Band!
If you want the full interaction of Live Music, look into having my band, Xpresso. Its a 5-15 Piece band available to cater to all musical styles and integrating with DJ. Here is the website of the band. www.xpressomusic.com
2)Latest News
Keep up to date with latest photos, videos and reviews on my blog. Here is the link to it directly:
3) Social Media
Keeps tabs on the latest tweets,pictures and videos from all my social media including Facebook,Instagram, Twitter,Google Plus and YouTube.
4)Where do I start in the wedding process?
Here is a list of things to ask when shopping for a wedding dj or band:
Questions to ask a DJ or a Band
5) I don't know what song to pick for my special dances..
6) What songs do you already have on your playlists? Any ideas so I can pick out my songs for my party?
7) Do you have video sample of what a party looks like?
8) Do you only do weddings?
Of course not!, I am available for Private Parties, Corporate Functions, Sweet 16 Parties, Quinceaneras,all parties needing music.
Sweet 16's Parties and Quinceaneras
9) Do you offer lighting?
Yes, I have different lighting packages for different size of parties.
10) You say you have reviews , where can I see these?
Yes I do..here are a few links to them
as well as the review page.
11) How much is all this going to cost?
It depends on the size of your party and what you will need to make your night as fun and memorable as you want. Price ranges include $100-250 an hour depending on location,size of party, lighting package preferred, services needed ( music for ceremony, music for cocktail hour,etc). Please call @ 305-343-9065 or as well you can just email me and I quote you right now here.The more information you have for me the more accurate the quote.
When it comes to being a Wedding Party DJ Asheville-Miami, I take great pride in giving you a great experience for any event. Please call me @ 305-343-9065 if you have any questions or email me @ info@djp-lo.com
Thanks for reading!
DJP-LO