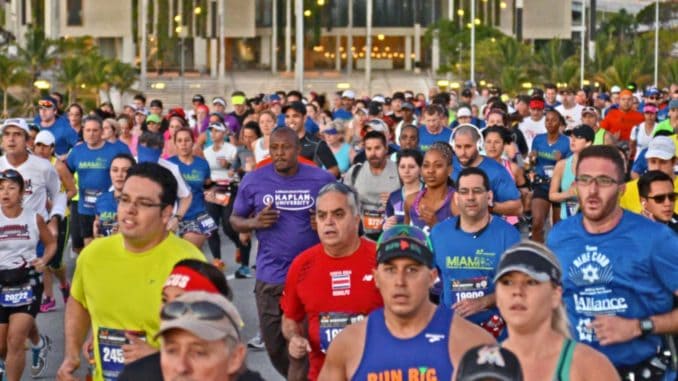 Xpresso Party Band combines DJ P-LO's beats.20,000 people participate!
Xpresso Party Band combines DJ P-LO's beats.20,000 people participate!
Nothing gets the extra push you need at 5 am running for the annual Miami Marathon. Thats the case for runner Becky Gonzalez. Becky like countless others train for months at a time. Conditioning as well as motivation play a major role to do such a task. Her and 20,000 plus runners every year are so thankful that music is another major factor to keep moving forward.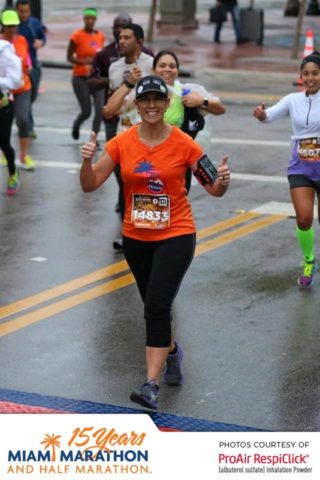 Becky has been running the Miami Marathon for 2 years now and she is convinced that the live band with the DJ combination helps keep her pace and motivates her to that finish line. These are her words from DJ P-LO's latest review.
The music truly moves you! For the second year in a row at the Miami Marathon, it was SO great to see AND hear DJ P-LO The Ultimate DJ and Live Music Experience! My husband and I received fresh energy to keep on going and persevere during this challenging race from listening to them jam. When your tired running legs are inspired to dance in the middle of a race, you KNOW the music is good! So thankful for the musical gifts and talents of DJ P-LO!
Nothing beats having a live band and a DJ. You get it all!
The Miami Marathon is now 13 years strong since its inception back on February 2, 2003 and Xpresso and DJ P-LO have been blessed to perform for such a great event. From back in 2003 the Miami Marathon coordinators have always felt that music is a big part of this race. But, Its just not another race, its a major event. When having the combination we get hired to motivate all ages!
DJ P-LO combines the countless array of music and having the interaction of a live band. There has been so many times that the band and myself get into some dancing on stage while having the loops create some great moments and lots of dancing from everyone of all ages. No one ever sits down only when its time to get something to drink and to catch your breath 🙂 Thankfully the runners are running in this case and they get drinks on the go 🙂
Every single member of our audiences is NEVER left out. All runners ages vary from teenagers to people in their 90s. Its almost like one big wedding and our job is to please everyone! Countless times we have used this combination.High school proms, member parties at country clubs,weddings for the 20 to 90s. Everyone gets their chance to get their music on!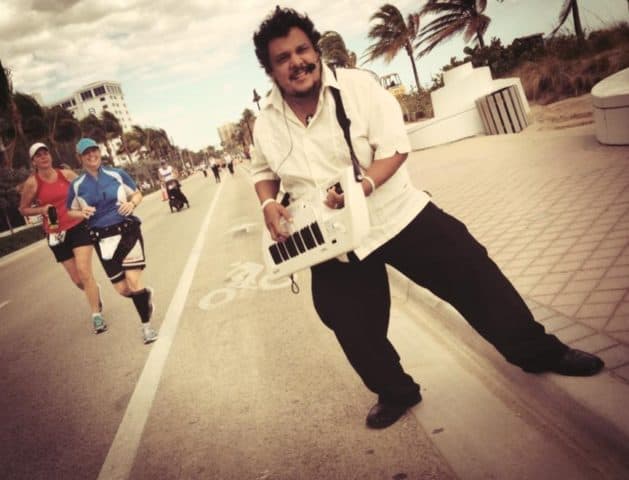 DJ P-LO The Ultimate Musical Experience only based in Miami and Asheville NC? How is that possible?
For most events, we get our inquiries way in advance and usually at peak times for parties off all types.The booking calendar online here lets me receive instant notification when some is interested in our services. Click here to see availability.
What are peak times in your locations?
In Asheville and in WNC most of the events occur in May-November but that also have to do with corporate events and winter weddings that we do.
In South Florida its from November-May. But it depends when we have the special shag party that we do up in the Myrtle Beach Area.
Where can I see and hear you in public?
We rarely do public performances expect for events like this one but Im happy to announce monthly showcases are in the works for both locations!
Here is the link to sign up for next year. When you get close to mile marker 11, you will hear me sing Go Go GO!! with the band routing you on!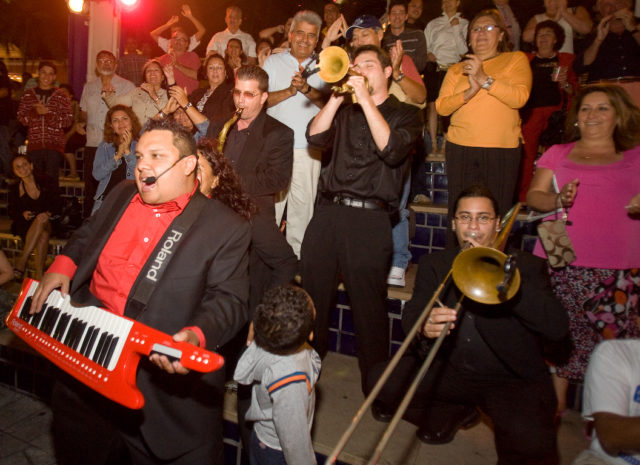 Xpresso Party Band combines DJ P-LO's beats.20,000 people participate!