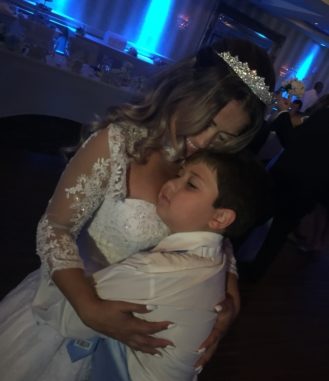 Damanti Family gives another 5 star rating to DJ P-LO
DJ P-LO performs in NJ-Another 5 Star Rating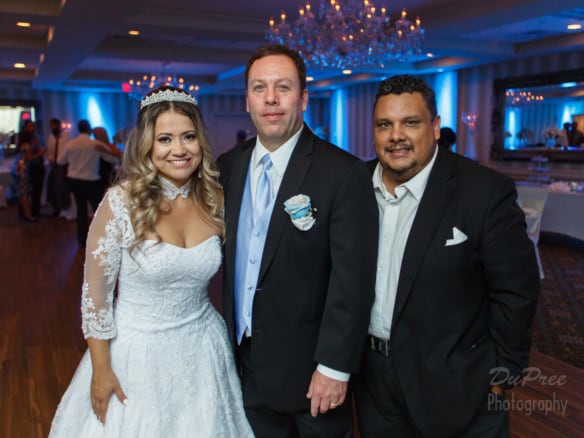 Nothing beats having couples hire you from a past performance they have seen you in. I personally know Gary and Sheila so this wedding is extra special. The Damanti's were really selective in their choosing the venue, the flowers and the music. For such a special occasion that is what they did. As you read in the remainder of the blog Ill give just a taste of what this night was about.
NJ it is
I really love to have weddings in all parts so this one is a bit extra special..Im originally from Jersey.:) So I was flown to the wonderful city of Newark and driven to the location. It had what the Damanti's wanted so it was going to be a stress-less night. No nerves from the wedding party, nervous family members, none of that.  Look at the size of the room.Pretty cool.

The Groom is just full of surprises
What a great ceremony especially the way he planned-last minute of what he was going to do. I know that sometimes things happen when wedding timeline's change…Music selection changes, wedding party changes even a change in the time BUT I was NEVER EXPECTING THIS!
YES he did…He is such a comedian. Its really all about making sure all my brides and groom's get what they want when they want it.  I personally love things to be spontaneous and never a dull moment and thats what the Damanti's had.
The Party is a time of celebration!
Yes, the party was at the very famous Sterling Ballroom in Tinton Falls, NJ. There you are guaranteed to have what you need for a party. You will fall in love with the  simplistic elegance of the DoubleTree hotel and Sterling Ballroom lobby.
You have Everything under one roof. It hosts 225 guests with an open dance floor. As you saw in Gary's video you can hold your outdoor ceremony under our picturesque white pergola flanked by greenery . The Damanti's were able to be accommodated of staying on-premises for your ceremony, cocktail hour, reception, and overnight accommodations. Now let's talk about the music..
Music to dance the night away
The Damanti's taste was all across the board..from 50 to today. When it comes to pick the right music, as I mention to all my brides, look at the website. The links I provide give you just a starting point when choosing songs for your ceremony, cocktail and reception. As the ceremony started off with a bit of humor, that was a indication of how it was going to play out all night. Intros where classic tunes, speeches from family and friends.The party was such a blast! Here is the review from Sheila..
Patrick did a great job for my wedding! A true professional! I highly recommend him for your next wedding or party!
Credits:
Venue: The Sterling Ballroom
Photographer: Dupreestudios