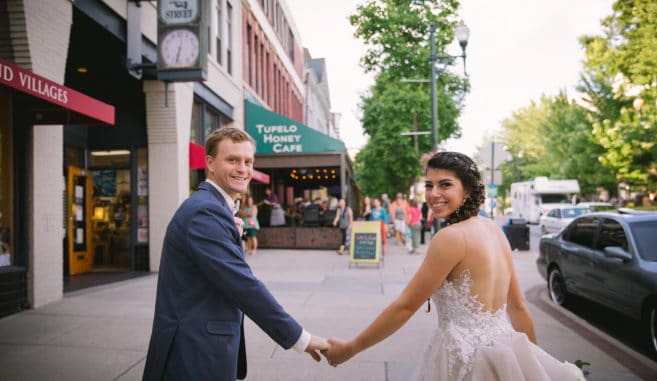 Capital Club Wedding-Perrine's hire DJ P-LO Musician. This time around Katherine wanted a local DJ and a MC. She really did as much as she could to find the right fit. I know that she just used a great resource…her mom. Mom meticulously searched for the online resources that answered her questions. I remember looking back to the conversation and knowing that their was no wedding planner. But never fear….DJ P-LO is here.
The Capital Club-Best View of Downtown Asheville
When I was told that the location of the venue was the Capital Club, I knew this spot was one of the best! Starting with the view.Here take a look.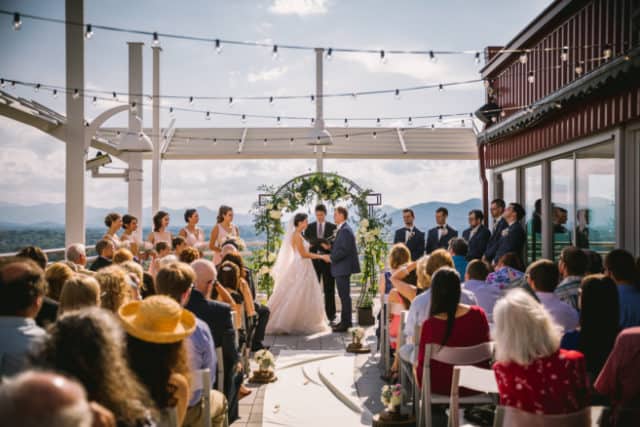 When searching unique event venue in Asheville, from my personal experience its one of the best.Location is based on the heart of downtown so it makes it easy for your guests to find. The rooftop and panoramic views of good ole Asheville. This is my 4th event at the venue. Its perfect for weddings, rehearsal dinners and all types of events there. It accommodates both indoor and outdoor space to make your event unforgettable.
I know you are allowed to bring in your own food and beverage and the parking can also be reserved. Parking in downtown Asheville can be a challenge.Their is parking lot behind the building that can be rented. It will be a smart move to get the spaces rented ahead of time.
The Decor and the how it can look-So great!
On occasion, I love taking pictures ( yes my iPhone doesn't compare to a pro) but you can get a idea of what It can look like.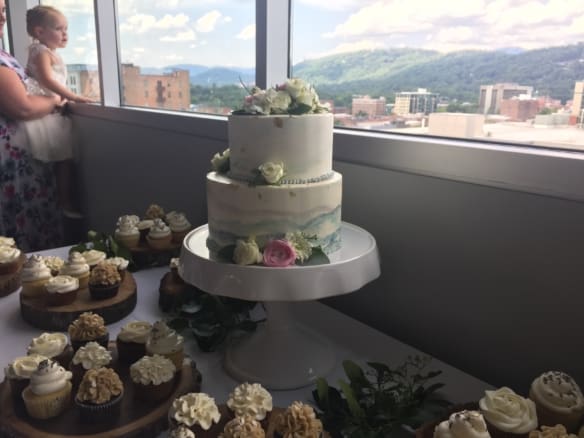 Now don't get me wrong, As I love perform all over Asheville, you do have some great venues available. This one happens to be having the downtown view of the mountains. In terms of the space there were lots of kooks where the newlyweds decided on placing their food, and decor. Here are a few more pictures so you can see.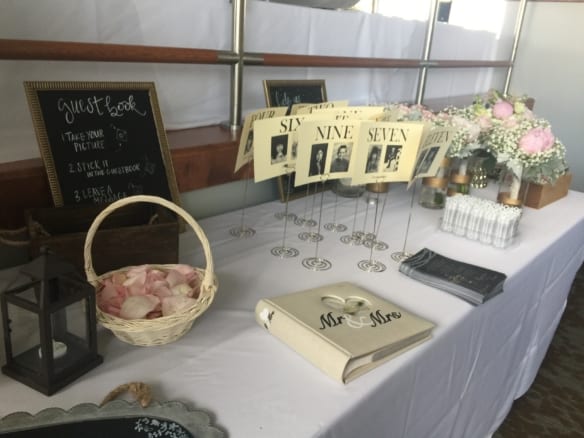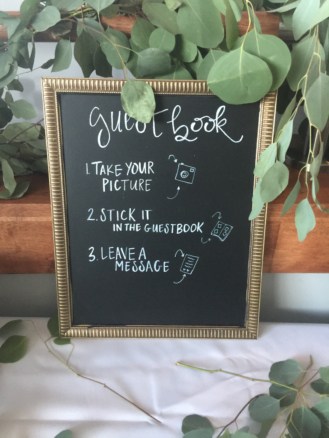 Sharing is caring…As well as being "Social"
The thing to do now…Sharing all you pictures via social media. Brides and Grooms rely on social media so people that could make the party get a glimpse of the festivities. I personally like the fact that you can capture moments. As I coordinating some of the things ( As a MC should) I caught a great moment of Kat walking down the isle and the First Dance. It was such a beautiful moment.
 Time to Party with DJ P-LO
The hardest thing is try to coordinate when everyone ( vendors and staff) had jobs to do. Thankfully, everyone was on the same page to make sure Kat and Lucas wedding would go without a hitch. The wedding started just a little behind schedule as Phil and Kristen were capturing some stunning pictures! It was perfectly fine as I know they were waiting for the sun to down just a bit to get some pictures. As you can see the pictures they are just really good! I had another opportunity to put my experience to the test as we were pushing the timeline to fit everything that the newlyweds wanted. Here is a quick video of the party.
Nothing like having a party where the whole family gets involved especially special dances or fight songs. As you see in the last ten seconds of a clip, they wanted something on the spur of the moment. I always mention in my blogs that having the ability to pull something off in the spur of the moment is key. My hotspot always comes to the rescue when it comes to having music that is not on the timeline. Is something that I make sure I mention.
Another 5 Star Review for DJ P-LO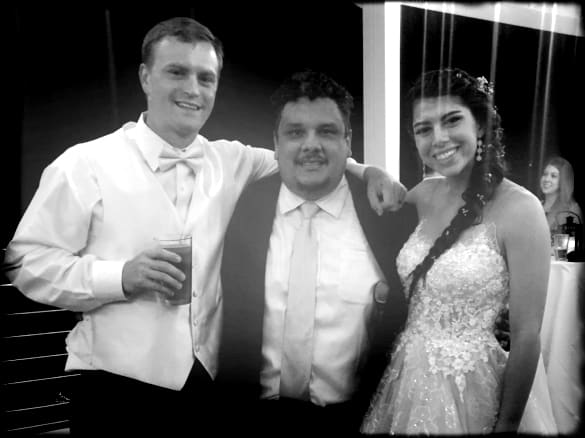 DJ P-Lo was very professional. He went above an beyond to make sure the entire reception went smoothly. As the mother of the bride, every time I asked him for anything he was right at there to help. He travels around the venue (never sits down) and has a pulse of everything around him. He was excellent!
Credits:
Venue: Capitol Club of Asheville
Photographer: Phil and Kristen Photography