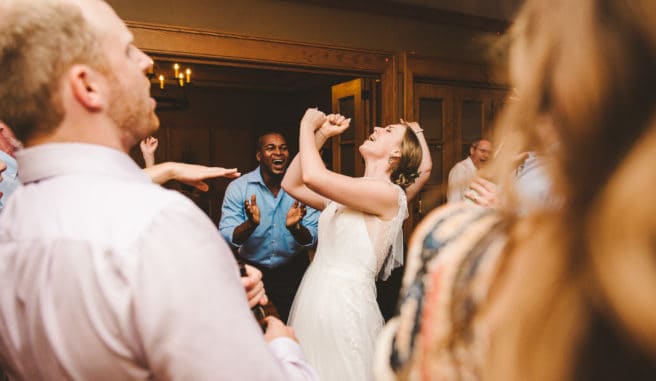 Asheville DJ P-LO performs for Amanda and Raul's Wedding-5-20-17-Champion Hills Club.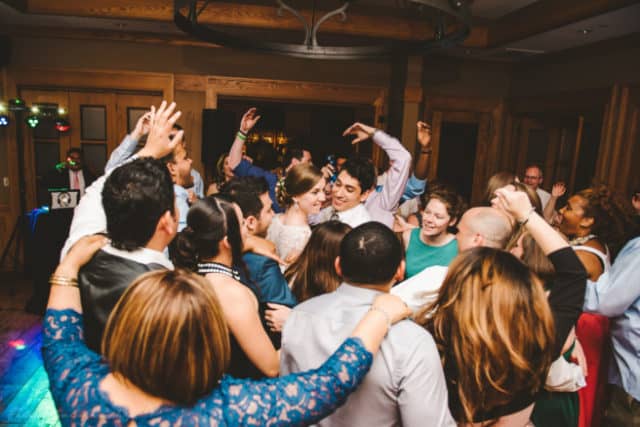 What a beautiful day in Hendersonville,NC to have a wedding. Amanda and Raul sure did it right. They both made sure that all their guests had there input for the perfect selection of music for their wedding day. On top of choosing the Champion Hills Club as their venue,Fete Photography for pictures and Events for You for the wedding planning, all was in perfect sync.
The Day Was Gorgeous
As you can see in the picture below, It could have not been a more perfect day to have a outside wedding ceremony. The View is beyond breathtaking. As you can see, it really makes way for the perfect picture.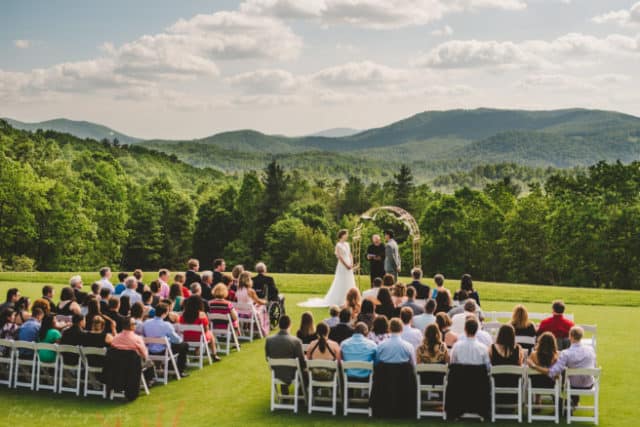 When it came to providing music for Amanda and Raul's Ceremony I did have a couple of options.
I could have run a chord as long and as far as this picture was shot but we opted that. I ran the music for ceremony from the reception area. The power source was available so close as well as the windows are able to open completley and feed the sound out. As far as the walk in and cueing the music, Raul walked into the ceremony area from where I was at. Amanda was at the other end so Eleanor assistants helped out with the timing. It was Perfect!
The Cocktail Hour
It is always a great addition when a venue provides all the extras for a comfortable area for the cocktail area. In this case the cocktail area and reception area are in two different locations. Luckily only a few steps away from each other. The sound I provided for them carried over enough where everyone just enjoyed their conversations while enjoying a beverage. As they wait patiently,the guests were all very excited to welcome Amanda and Raul inside.
In the next picture, it shows their first dance as husband and wife.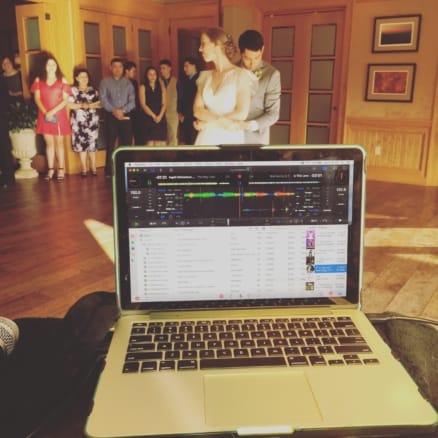 Live Music with DJ P-LO
I really the opportunity to add something different that usually you don't see DJ's do. When my Brides chose the live music option, it gives that extra touch of elegance that you don't really see in a Brides DJ. In the picture shown below, Amanda and Raul wanted Live piano. The beautiful thing is that the club already had one there. I was able to provide some classic tunes as well as latin jazz. everyone seemed to have enjoyed that i picked up the trumpet and played the piano at the same time. It has taken a bit of time to develop but always so much fun.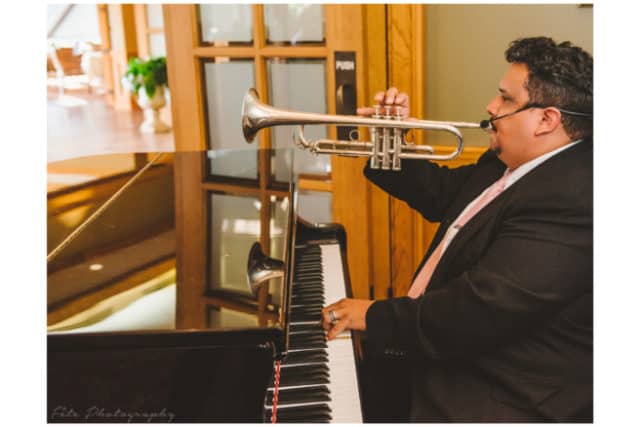 What more does the Champion Hills club offer?
From what I gathered in seeing the layout and the generous help they do offer some of these amenities:
Access to our Private Golf Course for stunning photos
Access to our Approved & Recommended Vendor List
Silverware, Glass & China
Clubhouse Linens
Existing Tables & Chairs (including natural wood folding chairs for outside use)
Bridal Party Dressing Rooms (including a large, mirrored vanity area for the Bridal party)
In-House Catering
Menu Tastings & Consultations with our Executive Chef
Ample Parking for up to 200 cars
Facility Fee, Setup & Cleanup
Security
Baby Grand Piano
Experienced Service Staff
Experience Bartenders
The Reception..Time to Party
Amanda and Raul have a big diverse family. So In terms of speeches, announcements and everything else it was done in a Bi-lingual fashion. The availability of being able to translate did come in handy. As a Bi-Lingual Dj in the Asheville area, its nice that my clients can count on me so everyone can understand. As far as music goes, the lists were all compiled on playlists on Spotify. It does come in handy when you want a custom wedding. The music mix was from almost every part of the world. Here is a small snippet of Raul's and Amanda's family coming together as one big happy family!
Its about you…not the dj
Many times I have spoken to brides saying they have spoken to other djs and inability to comply with their specific needs. When its your party, its your party. I make sure that all information is handled in the most detailed way. From talking to the officiant and their saying and timing announcing the bride and groom,to the venue it is important that everyone is on the same page when coordinating such an important affair. One thing a couple can do is too fill out the wedding questionnaire form I have available online. There you will have space to write down:
Names of Family
Any special songs they would like o come in too ( performed live on piano or trumpet)
Any special renditions or cutaways of songs
Songs put together on the spot
Live music performed for cocktail hour any style of music
Bi-lingual Mcing available
and so many more things for your custom wedding day
A 5 star review from Amanda and Raul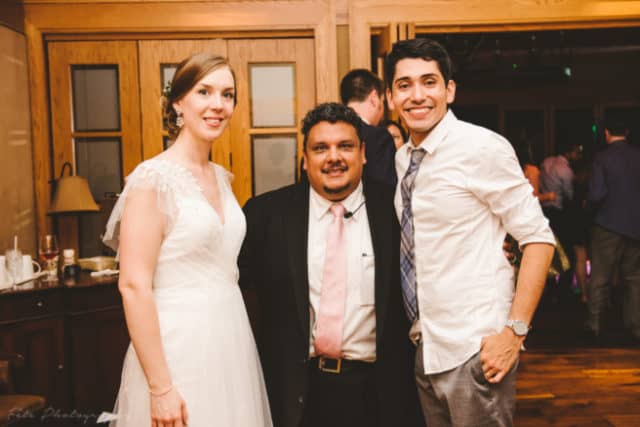 We're very happy we hired Patrick for our wedding! He was very professional and made a great MC. We appreciated that he speaks both Spanish and English. He played piano during dinner, and everyone was wowed when he played piano and the trumpet at the same time! He got the party going with the music choices and our guests told us that they really enjoyed him. Thank you!"
If you need help planning your wedding, look no further DJ P-LO is here to help you in all your needs. From Lighting, Photography, Music, Coordinating. Consider when hiring DJ P-LO you are getting information from a person in the business for the past 15 years hosting for Weddings, Corporate events and much more. Get started right away with some basic information available on the quick form available here.
Have your party your way and enjoy like countless others with
DJ P-LO The Ultimate Dj and Live Music Experience
Credits:
Venue: Champion Hills Country Club
Photographer: Fete Photography
Wedding Planner: Events for You